Author: Mark Godfrey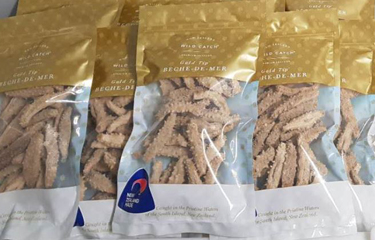 A gold-colored sea cucumber from New Zealand is proving a winner for a China-focused exporter of wild seafood who hopes to certify the species as organic.
New Zealand Wild Catch Limited, which holds approximately half of New Zealand's national quota for wild sea cucumber catches, is marketing the new catch as part of its focus on China's high-end market for sea cucumbers, according to CEO James Parfitt.
"Things are going really well, during survey work we discovered a golden-colored, much more spikey variety of our native New Zealand species Stichopus mollis called Gold Tip, which has taken off with our Chinese customers in the last few months because of the auspicious color, and spikes, and the fact we use no dyes or additives," Parfitt said.
New Zealand Wild Catch now has a fishing vessel working full-time, along with a live-aboard crew, harvesting the gold tip variety.
"We now keep them in live tanks when we land them on the boat and process them on board within 30 minutes of bringing them aboard the boat – to keep the quality and shape, rather than relying on small abalone boats which had previously to take them gutted in an ice slurry to port to process," Parfitt said. "We have been concentrating on deeper waters where we find the golden-colored sea cucumber, and voluntary rotational fishing initiatives."
arfitt says his company has been "working with institutes in New Zealand" to collect population data to educate fishery management and quota decisions. He's also in the process of applying for organic certification for the gold-tip variety.
The national quota is "still tiny" at 80 metric tons (MT) of allowable catch per year, although only around 60 MTof that is fishable, according to Parfitt. Of that, New Zealand Wild Catch holds around 40 MT of the quota. His firm has commissioned a new purpose-built export factory in Christchurch, on New Zealand's South Island, equipped "with Chinese processing techniques," developed in cooperation with Li Chang Qing, a professor at the Chinese Academy of Sciences.
The gold-tip sea cucumbers are being sold on popular Chinese e-commerce site VIP.com and about to list on Tmall.com and other platforms with a "coalition" of well-known New Zealand premium food brands across seafood, dairy, and fruit," Parfitt said.
"We get a lot of interest from daigou [Chinese tourists who buy luxury products for resale back home] market in New Zealand buying from souvenir and duty-free shops in New Zealand," he said. "[We] try and protect our daigou and export customers by not retailing ourselves."
Source: https://www.seafoodsource.com/news/foodservice-retail/new-gold-colored-kiwi-sea-cucumber-a-hit-with-chinese-buyers