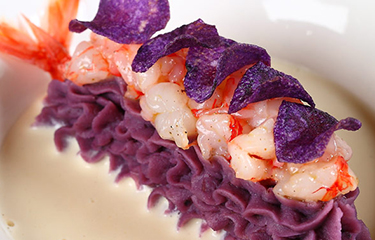 For hundreds of years, Champagne has been a natural pairing with seafood morsels.
More recently, the expansion of the sparkling wine genre has taken it into new flavors, textures, and terroirs that have brought a larger appreciation of how the wine is enjoyed throughout a meal.  Typically, glasses of "bubbly" have been delegated to cocktail parties, pre-dinner drinks, or celebrations. But the revival of older cultures and "outside the box" thinking sommeliers are showing it can indeed last throughout an entire meal.
Thanks to the depth and breadth of sparkling wine, sommeliers have plenty to work with on a variety of dishes and can even take a global excursion of sparkling wine during courses.
In France, there is the iconic Champagne – made only in its namesake region, according to strict regulations. The country also has a whole range of non-vintage varieties such as those from the south of France, and the beautifully elegant French rosés.
In Spain, you'll find the very appealing and reasonably priced Cava, and Italy boasts a fine Franciacorta which is the country's equivalent to Champagne. Prosecco has started to gain a foothold and is made around the world, and practically every New World winemaking region has its own version of sparkling wine, experimenting with grape blends and wine-making styles.
The Union des Maisons de Champagne, which was founded in 1882 to promote the exclusiveness of Champagne wines, have established a set of guidelines for pairing Champagne with seafood that can be used as a basis for most sparkling wines.
In addition to the Union des Maisons de Champagne, chefs and wineries from around the world have also given their input on how to pair sparkling wines with food.
Here's what five chefs from around the world have come up with.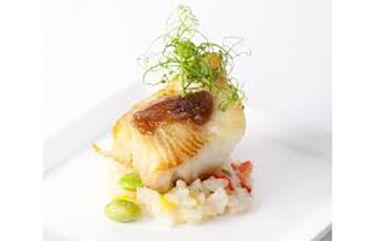 1. Turbot with Jerusalem artichoke with Veuve Cliquot by Joël Rubuchon
In 2013, the House of Veuve Clicquot enlisted star chef Joël Robuchon to create a set of dishes that combine well with their Champagne. The renowned chef went beyond just providing recipes for each of the wines by setting wider guidelines for those wishing to experiment themselves. He offers two main principles:
Looking alike, working together:  Unite the flavor sensations of a wine with the flavors in a dish, for example, sweet/sweet, acidic/acidic.
Contrasting elements balance each other out:  Sometimes two flavors contrast to balance out the palate, and render it even more enjoyable (acidic/sweet, acidic/fatty).
In all, the message seems to encourage experimentation to find your own perfect balance of flavor. The following dish is a recipe recommended to pair with Veuve Cliquot's Grand Dame Rosé 2004.
Turbot with Jerusalem artichokes (Serves 8)
Ingredients
2 kg turbot fillets
1 bunch of scallions
1 kg Jerusalem artichokes
100 g butter
2 brick filo pastry sheets
Nut oil
2 zucchinis
Olive oil
3 carrots
1 egg yolk
1/2 liter chicken stock
Method
Clean the turbot fillets and remove the skin, "portioning" them into appropriate serving sizes, refrigerate.
Peel and julienne the Jerusalem artichokes and stew them in butter, guarding their crispness, then add the chives and shallots.
Fashion "slippers" with the filo pastry, glazing it with the egg yolk, add the julienne.
Peel the carrots, and fashion them into little balls with a "melon baller;" do the same for the zucchini. Boil them and cool.
Reduce the chicken stock, whisk in the butter, add a bit of cream, keep warm. In a skillet, brown the Jerusalem artichoke slippers.
In a skillet, brown the Jerusalem artichoke slippers.
Cook the turbot fillets in olive oil. Season and garnish to serve.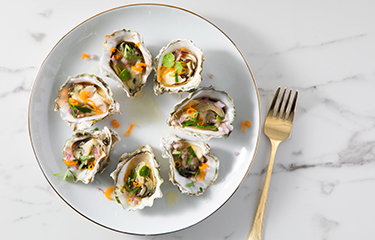 2. BBQ oysters with meyer lemon & nasturtium mignonette with J Vineyards Cuvee 20 by chef Carl Shelton
Nestled cozily in Northern California's Russian River appellation, J Vineyards and Winery has gained a reputation for its traditional methods and hospitality; namely their iconic "Bubble Room," where executive chef Carl Shelton creates tasting experiences and innovative pairings for their portfolio of wines.
"There's nothing like a warm summer night, sipping J Cuvée 20 sparkling and enjoying some zesty, fresh BBQ oysters topped with a homemade mignonette sauce," Shelton said. "Bubbles are always fantastic with seafood."
BBQ oysters with meyer lemon & nasturtium mignonette (Yields about 1 ½ Cups Mignonette)
Ingredients
Live oysters – (As many as you need. Chef prefers the small to medium-sized Pacific oysters, such as Miyagi or Kumamoto).
3 tablespoons finely chopped shallots, rinsed in cold water
½ cup Champagne vinegar
¼ cup J Cuvée 20
3 tablespoons finely chopped Nasturtium leaves*
2  Meyer lemons, zested and juiced
2 teaspoons Kosher salt
Method
Combine shallots, vinegar, Cuvée 20, nasturtium leaves and Meyer lemon zest and juice into a nonreactive bowl and mix until it is all fully incorporated. Season with salt and refrigerate until needed.
For the BBQ oysters:  There are many ways to BBQ oysters, but they all start the same way: scrubbing the oysters and preparing a grill for medium-high heat. After this, people can use different techniques.
Here are two popular methods. The first is to pre-shuck the oysters with an oyster knife, trying to retain as much oyster liquid in the shell. Carefully cut the muscles that are connecting the oyster to the shells. Then place the shucked oyster in the shell directly on the grill grates. Grill until the oyster liquid has come to a boil inside the shell. Once up to a boil, remove the shell from the grill and let cool slightly. Spoon the mignonette over and serve.
The second way is to place the oyster, cupped side down, on grate, then cover the grill. Grill until oysters begin to open, about 2 minutes. Transfer opened oysters to a platter (discard any that do not open). Let cool slightly, then use an oyster knife to open the shells, keeping cupped side down and retaining as much liquid as possible.
Using an oyster knife or paring knife, cut muscles connecting oysters to shells. Serve warm with the mignonette.
*If Nasturtium leaves are unavailable, substitute spicy mustard greens, arugula or horseradish.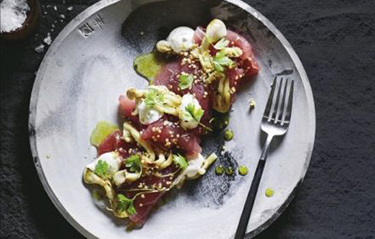 3. Tuna crudo, shemeji mushrooms in verjuice pickle, truffle mayo, fried quinoa with Josef Chromy NV Tasmanian Cuvee by chef Nick Ratt
Tasmania is renowned for its sparkling wine culture, some saying it's the most similar terroir to Champagne outside of France. So, for another New World pairing, chef Nick Ratt suggests his tuna crudo to pair with their cuvee.
"Matching my food with wine is one of my favorite things about my recent move to Tasmania," he said. "In this tuna dish, the quality of the tuna is paramount, the oil content of the fish calls from some fresh acidity which comes in a light pickle made from our chardonnay verjuice, some extra virgin olive oil, and some thyme leaves."
On the wine pairing chef Ratt goes on to say: "What brings this particular dish into being a great match for the Josef Chromy Sparkling is the creamy and earthy tones of the truffle mayonnaise, enhancing the traditional method sparkling. If available, fresh truffles are a must to shave over the dish!"
Tuna crudo, shemeji mushrooms in verjuice pickle, truffle mayo, fried quinoa (serves 8 to 10)
Ingredients
800g Yellowfin tuna, as fresh as possible
Dill to garnish
Pickled Mushrooms
2 punnets shemiji mushrooms
100ml verjuice
50ml white wine vinegar
150ml good olive oil
6 sprigs picked thyme
Truffle mayo
6 Egg yolks
50mls Chardonnay vinegar
15mls Dijon mustard
25mls Fresh lemon juice
50g truffle mushroom paste
600mls olive oil
Sea salt and white pepper
Method
Using a sharp knife, slice the fish lengthways into long barrel shapes, this will make it easier to slice. Cut the fish into discs about 3ml thick. Take your time this this part as it will make a big difference in the end for texture.
For the mushrooms – in a jug, measure out all liquids, then pan fry the mushrooms quickly on a high heat until tender, season mushrooms and add pickle liquid and thyme to the mushrooms. Remove pickles and liquid to a container or jar and chill until needed. They will last several weeks.
To make the mayo Place the yolks, mustard, truffle paste, vinegar and lemon juice in mixing bowl and whisk until light in colour, Add the oil gradually, whisking all the time, then season to taste with salt, pepper – Note, If the mayonnaise becomes too thick while making, add a little hot water
For the quinoa, bring a medium pot of water to the boil, blanch the quinoa for 10 minutes then drain well and toast in a fry pan on medium with some vegetable oil until golden. Medium heat will work well. Drain well and keep on a paper towel so it stays crisp.
When ready to serve simply un wrap the fish and dress with some of the mushroom pickle liquid, some salt and pepper, gently coating the fish. Sprinkle over the pickled mushrooms, decorate with dots of the mayo and finish with toasted quinoa and few sprigs of dill.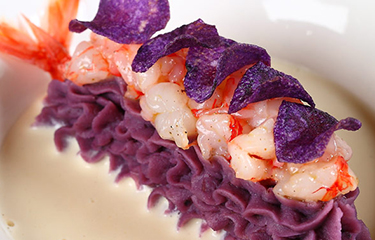 4. Violet potato, red shrimp and franciacorta, chef Stefano Cerveni, restaurant "Le Due Colombe"
Looking to Italy for inspiration, the website of the region of Franciacorta presents recipes from several local chefs. This one is designed to pair with the Franciacorta Satèn, a soft, creamy wine with a tingling crisp bubble.
According to the site, Franciacorta is an ideal wine for any point in a meal, from an aperitif to main dishes, and from the simplest meal to the most complex. They recommend Extra Brut, Brut and Extra Dry for seafood and fish dishes.
In this dish, the Cerveni's uses sweet and creamy potato with a vibrant splash of color, succulent and salty prawns, and a crisp topping of chips, to make a simple yet special dish.
Violet potato, red shrimp and Franciacorta (serves 4)
Ingredients 
800 g violet potato
8 fresh prawns from Sicily
½ L peanut oil
 ½ L Franciacorta Brut
40 g butter
2 dl. of liquid cream
2 tablespoons extra virgin olive oil
salt and pepper
Method
Boil 600 grams of violet potatoes, peeled and cut into pieces, in salted water with the roughly chopped shallot.
When the potatoes are cooked, drain without drying too much.
Puree the vegetable mixture until the mixture is smooth and completely mixed.
Put the puree on low heat for a few moments, adding 20 grams of butter and 1 dl of cream; mix well, add salt and pepper.
Peel the potatoes not used for the purée, cut them into very thin chips, and leave them in cold water for 5 minutes (to remove the excess starch).
Drain them, dry them well and fry them in peanut oil, paying attention to the temperature to keep the bright violet colour.
Remove the chips from the oil, put them aside in a warm place on a clean paper towel.
Clean the prawns, keeping only the tail meat, cut into small cubes and marinate in a little olive oil, salt and pepper for 5 minutes.
Reduce the Franciacorta by half over high heat, add the remaining cream and a little pepper; boil for a few moments.
Remove from heat and beat with a whisk, incorporating the remaining butter.
Presentation
Spread a thin layer of Franciacorta sauce on a large shallow and hot dish. With the help of a pastry bag, make a 10 cm long strip of hot purée.
Lay the red shrimp on top of this, followed by the violet potato chips.
Serve immediately.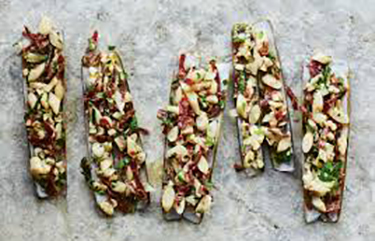 5. Razor clams with jamon and Cava Vinaigrette by José Pizarro
Cava, which is made in the same method as Champagne, is one of the world's most food friendly and accessible wines, enjoyed on all kinds of occasions in its Spanish homeland.
"This versatility is due to the acidity, freshness and carbonic contribution of Cava, which harmonizes with the four basic tastes: bitter, sweet, salty and sour," said Vegamar Bodegas, a Mediterranean wine producer. It's lower alcohol content also makes it particularly great with spicy food.
On seafood, they point out that the natural saltiness of many seafoods is balanced out by the wine's dry acidity, especially with aged Cavas.  For fish, they go further to say the carbon dioxide of the bubbles helps to cut through fattier varieties, but to select a simpler Cava.
As one would expect, Cava's partnership with seafood-based Tapas is exceptional, and chef José Pizarro – a Spanish chef who is wowing the London restaurant scene – even incorporates Cava in the dressing for this vibrant preparation of razor clams.
This recipe was featured at a chef event at Number 38 The Park and presented on The Lucky Onion website and the recipe comes from his latest book, Catalonia.
Razor clams with jamon and Cava Vinaigrette by José Pizarro (Serves 4)
Ingredients
24 small fresh razor clams
olive oil for frying
75 g (2½ oz) jamón, finely chopped
1 small shallot, finely chopped
handful of chopped parsley
small bunch of finely chopped chives
2 tablespoons cava
good squeeze of lemon juice
sea salt and freshly ground black
pepper
4 tablespoons extra virgin olive oil
Method
Put a large pan with a lid over a high heat. Rinse the razor clams thoroughly under cold running water. Add to the pan with a splash of water and cover with the lid. Cook, shaking the pan, for 30 seconds until the clams have just opened (discard any that stay shut).
Remove the meat from the shells. With a sharp knife cut away the foot/digger – which is the bulbous dark bit at one end – and remove the central stomach sack and intestinal tract so you are left only with the sweet firm white meat.
Meanwhile, heat a little olive oil in a frying pan and fry the jamón until crispy. Remove with a slotted spoon and set aside, leaving the fat in the pan.
Mix the shallot and herbs with the cava and lemon juice and season well. Whisk in the extra virgin olive oil.
Put the frying pan back on the heat and fry the sliced clams in the jamón fat until they have just finished cooking.
Serve scattered with the jamón and drizzled with the dressing.
Source: https://www.seafoodsource.com/news/foodservice-retail/5-ways-to-pair-champagne-and-sparkling-wine-with-seafood